Free help: USER GUIDE

| | | |
| --- | --- | --- |
| |   | Clients & Profits X Online User Guide |

Since deposits aren't added for a client, they do not affect accounts receivable or client balances. When posted, they update the General Ledger and Bank Reconciliation only.
Bank deposits are a special payment type used when your agency receives a check that doesn't pay off a client's invoice. Bank deposits can be used to add checks for such things as cash deposits, interest income, media commissions paid, or tax refunds.

To add a bank deposit

1 From the Client Payments window, choose Edit > Add Bank Deposit.

The Add Bank Deposit window opens.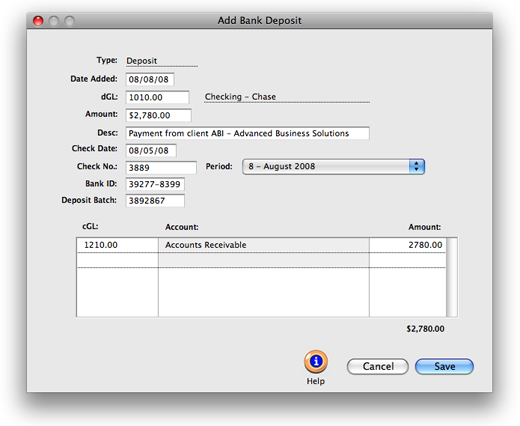 2 Follow the steps to add a bank deposit.

The date added is the date on which the bank deposit was added.

The bank deposit amount debits your cash account in the General Ledger. The payment's debit account, which is usually the primary checking account, is copied from the G/L preferences but can be changed.

The description describes this bank deposit. The bank deposit's description is copied to journal entries.

Check date is the date from the bank deposit's check. It is the date the check was written.

The check number refers to the bank deposit's check. You can find client payments by check number.

A bank deposit can be posted into any unlocked accounting period.

The Bank ID number is the bank's identification number that appears on the check and prints on deposit tickets.

The deposit batch is a user-defined field that groups the payments and/or bank deposits with the same batch number together. Enter the number from the preprinted deposit slips, if available; otherwise, enter the deposit date. Reports can be printed showing payments by deposit date, which is useful for reconciling your cash account. Deposits can also be consolidated on the Bank Reconciliation window to show as one batch total.

The bank deposit can be distributed to one or more cGL accounts.

3 Click Save.
Comments (0)
Sort by: Most Recent |
Oldest