Free help: USER GUIDE

| | | |
| --- | --- | --- |
| |   | Clients & Profits X Online User Guide |

The Meeting Summary window is used to record what the meeting was about, including discussions and any unfinished or follow-up items.
The Meeting Summary window provides a place to record what went on during a meeting so that there's never any guessing about who said what, and who is supposed to follow-up on which items. With text boxes for both discussion and action items, as well as the ability to automatically copy the summary to attendees, everyone will have up-to-date information about meetings.

After a meeting has adjourned, discussion and action items are entered into the text boxes to document the meeting. Then, as a way of distributing meeting minutes, attendees can receive an automatic e-mail with the summary information.


Time-saving tip If you have network access in your conference room, bring a laptop and plug into the network. Log into Clients & Profits X and assign one person to keep notes right in the Meeting Summary window. Then, by the time attendees are back at their desks, they could have a summary waiting for them in their inbox.
Meeting notes are entered in the Discussion text box. This field can contain an unlimited number of characters, so don't worry about running out of space. Anything that needs to be followed up on, or assignments that have resulted from the meeting, are entered into the Action Items text box. Like the Discussion box, the Action Items box can also contain infinite information. Once the meeting summary has been fully entered, click the Completed checkbox to indicate that the work is finished. Then, to forward the meeting summary to attendees, check the Notify all attendees via e-mail checkbox.

To add a meeting summary

1 From the Meeting>Manager window, click once on a meeting to select it.

2 Click the meeting summary link or choose Edit > Write Meeting Summary.

The Meeting Summary window opens, prompting you to enter the meeting's summary information.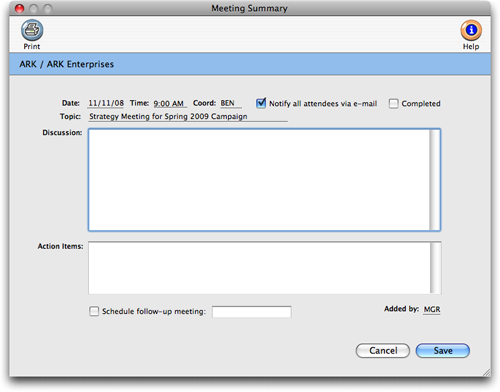 The date, time, coordinator, and topic fields are automatically filled in when the Meeting Summary window is opened. This information was originally entered when the meeting was set up in the Add Client Meeting window.

3 Enter the meeting notes in the discussion field.

4 Enter any items that need to be followed-up on in the Action Items field.

5 If a follow-up meeting is to be scheduled, click the Schedule follow-up meeting checkbox.

Clients & Profits X will automatically enter a date and time that is one week from the meeting's date, but you can edit it.

6 When you have finished entered the meeting summary, click the Completed checkbox to indicate that the meeting summary is complete.

7 If you would like to send the meeting summary by e-mail to everyone who attended the meeting, check the Notify all attendees via e-mail checkbox.

8 Click save.
Comments (0)
Sort by: Most Recent |
Oldest