Free help: USER GUIDE

| | | |
| --- | --- | --- |
| |   | Clients & Profits X Online User Guide |

Internal charges are expenses that you charge to the client on a unit basis
When internal charges are added, you'll enter the item code and size code. The exact item's price is copied to the Add Internal Charges window, then multiplied by the quantity to calculate the total net and gross costs.

To add an internal charge item

1 From the Internal Charges window, click the Add button.

The Add New Internal Charge Item window opens.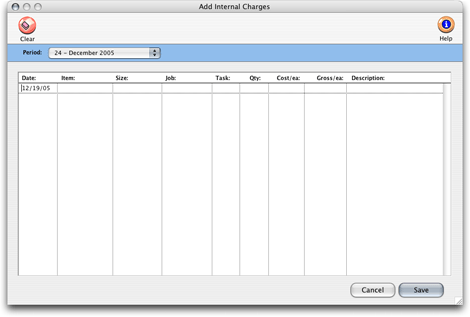 2 Enter the item code, size, and description.

The item code identifies the item in general (i.e., Film, CD-ROM, Slides, etc.). Each item can have one or more sizes, each with its own cost amount and price. The description field describes the particular item and size combination, and appears on job cost reports and the Internal Charge price list.

3 Enter the task and unit of measure.

The item's task is copied to internal charge expenses when they are added. Use this default task to indicate the task most commonly associated with this kind of internal charge item. The task can always be changed when the expense is added. If the item's task isn't on the job, you'll be prompted to choose a different one. The unit of measure is for reference only, and is optional.

4 Enter the unit cost and gross amounts.

The unit cost is user-defined, like the cost rate for staff members. It is usually the average cost needed to produce the internal charge (e.g., cost of the materials to produce an 11" x 16" duratrans). The gross amount is the retail price of the item, which the client will be eventually billed.

5 Click Save.


See also:
Internal Charges
Editing and deleting an internal charge item
Adding internal charges
Comments (0)
Sort by: Most Recent |
Oldest