SUMMARY: This tech note will help you set up cross-platform sharing of the Clients & Profits database on either Windows Server 2003 or Windows 2000 Server.
THE CLIENTS & PROFITS HELPDESK DOES NOT PROVIDE SUPPORT FOR SERVER SETUP. Installing and configuring your server hardware and operating system can be technical, so you should have access to a computer expert who is familiar with networking and server operating systems.

NOTE: The following is a step-by-step guide to setting up cross-platform file sharing for Clients & Profits on Windows Server 2003 from a clean install of the operating system. Different configurations and/or proprietary software solutions may change some of these steps.

First, you'll need to install File Services For Macintosh.

1 Open Control Panel

2 Open Add or Remove Programs

3 Choose Add or Remove Windows Components

4 Scroll to Other Network File and Print Services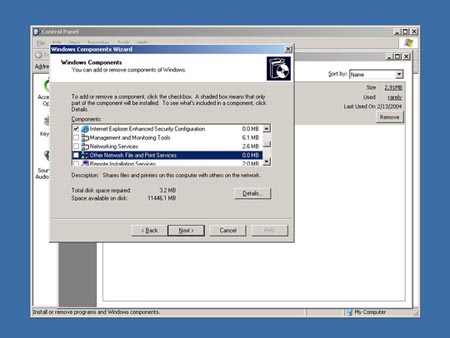 5 Check File Server For Macintosh (then ok, then next, install will procede)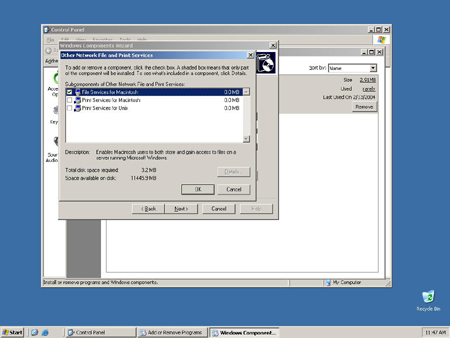 6 Click Finish

7 Close Add or Remove Programs

Secondly, you need to set up a folder (or two) for cross platform file sharing.

1 Open Control Panel > Adminstrative Tools.

2 Open Computer Management.

3 Expand Shared Folders and click on Shares.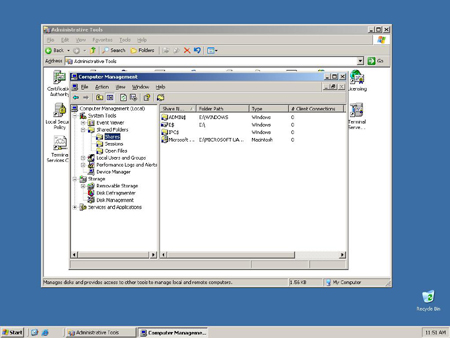 NOTE: The Default share for the Mac is named "Microsoft UAM Volume". You can either add a PC share volume to this, or you can set up another folder to use as the shared volume. Both of these options involve creating a new share.

4 Right click in the white space below the list of shares and select New Share. (This will start the Share A Folder Wizard).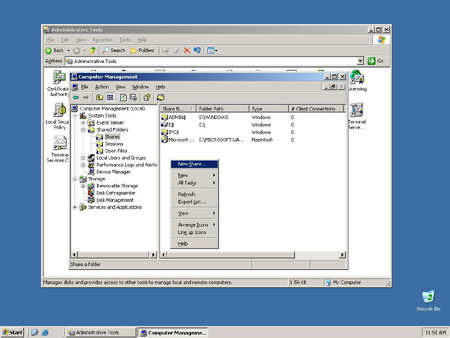 5 Click next and choose the path to the folder you wish to share and click next.

NOTE: If you wish to use the Microsoft UAM Volume, then navigate to that folder here. If you are creating a new share (both Mac & PC), then navigate to that folder here (the folder must already exist).

6 If you are sharing the UAM Volume, then you can just click next again (leaving the default Windows Users sharing settings here). If you are creating a new share, then you'll also want to check the box for sharing for Apple Macintosh Users and designate the the share name (if you want it to be different from the Windows share name, but that's not recommended).

7 Click next. This is the wizard's permissions window. You'll have four options here, but we'll talk about security later, so just choose Administrators have full access; other users have read and write access.

8 Close the windows.

Third, you'll need to configure your Security and Password Authentication settings.

NOTE: Security is often the area of configuration that gives people the most problems. Here are some steps and tips that should keep the frustration level as low as possible.

NOTE 2: Mac and Windows machines handle security and authentication differently. Consequently, there are several different areas, both on the mac and the PC, that we'll need to take a look at.

1 Windows user permissions can be edited either by looking at the folder in the Windows Explorer (right click on the folder in Windows Explorer and choose Properties, the select the Security tab) or under the share properties in the Computer Management console.

2 Give everyone full control of the folder and the database.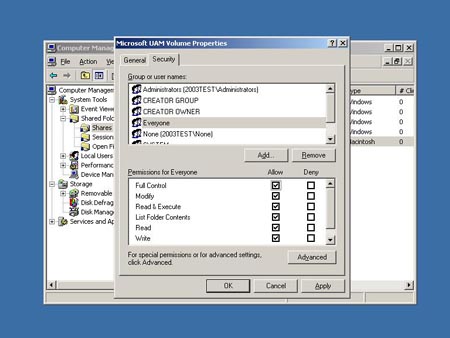 3 Configure the Macintosh authentication and permissions Under Computer Management.

4 Right click on Shared Folders and choose Configure File Server For Macintosh.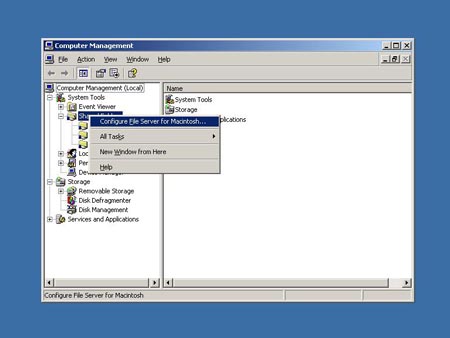 5 If you wish to change the name of the server that Mac users will see, do it here.

6 Under security, under Enable Authentication, choose Apple Clear Text.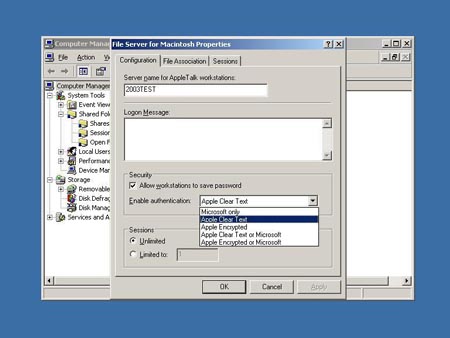 NOTE: It is common to allow users to save passwords, so they don't need to log into the server every time they start their computer, though this is not 'needed' for sharing to work properly.

7 Close the File Server for Macintosh Properties window.

8 Back in the Computer Management window, click on Shares, then right click on the UAM volume share that is labled Type Macintosh (there is a column that tells what 'type' of a share the listed share point is classified as) and choose Properties.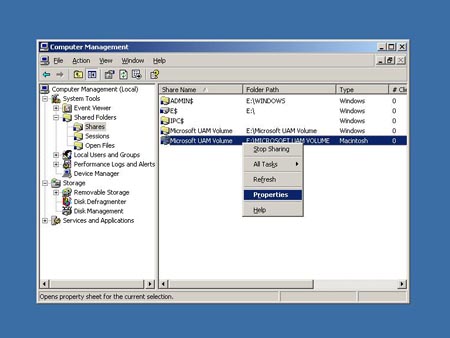 9 When this is open, you will see the General Properties, under SFM Volume Security, by default the box "This volume is read-only" is checked. Make sure you uncheck this and click apply.

10 Select the security tab.

11 Make sure to give all Mac users that will access the Clients & Profits database Full Control over this share.

12 Click ok.

The volume should now be accessible from both Macintosh and Windows computers.

Final considerations

OS X permissions Note: The OS X permissions work a little differently than others on a file level. Sometimes if you are not able to access the database with both Macs and PCs at the same time, you may need to copy the database to the local hard drive of an OS X computer. Go to Get Info on the file and look under Ownership & Permissions and Details. Here you will need to set all access to Read & Write. Close the Get Info window and copy the database back to the UAM volume on the file server.

If you're serving your Clients & Profits database using OS X Server, make sure than both oplocking and strict locking are disabled. Apple does not recommend these settings be enabled for cross-platform sharing. For more information about changing settings of an SMB share point, see this tech note from Apple. For additional information regarding file locking with SMB share points, Apple has also provided this tech note.

TCP/IP protocols: Under the above setup,OS X-based Macs connect to the database using AFP (the Apple Filing Protocol). Though OS X offers the ability to mount servers using Samba (or SMB, Server Message Block), they will need to use AFP to connect to a C&P database. Windows systems use SMB exclusively and OS 9 uses AFP exclusively.